EcoMak®: Sustainable Packaging Solutions
In order to better address the shift towards circular economy, PLASTIMAK has developed new, sustainable packaging solutions. While maintaining the high performance and quality of PLASTIMAK, the EcoMak® products highlight the ecologically-responsible philosophy of our customers and cater for the environmental consciousness of the consumers. The EcoMak® line includes three sustainable packaging alternatives, depending on the end product application: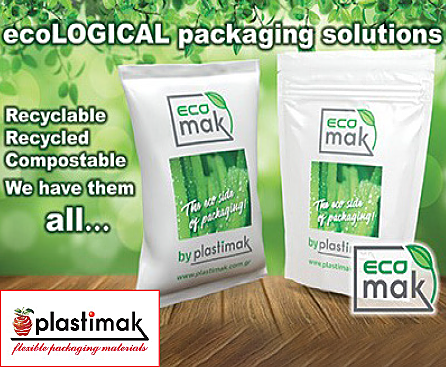 Recyclable Packaging: In order to achieve full recyclability under the current recycling streams, PLASTIMAK has redesigned "traditional", multi-material structures, substituting them with mono-material, recyclable structures that offer the same, if not better, protective and functional properties.
Recycled Packaging: PLASTIMAK has replaced conventional films with materials containing high concentrations of chemically recycled film, providing our customers with a quick and easy way to 'join' the circular economy.
Biodegradable- Compostable Packaging: Made from biobased resources, our compostable structures, are biodegradable under conditions of industrial composting, ensuring the minimization of the packaging footprint.