Espera Nova: The Digital Upgrade in Weigh Price Labeling Systems!
Theodorou Group offers the new machine generation in weighing and labelling systems, ESPERA NOVA.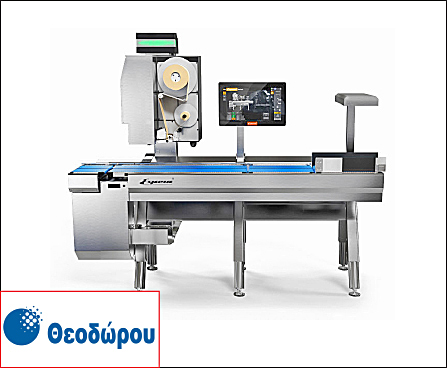 The new ESPERA NOVA series is setting new standards in weighing and labelling technology. According to the allover topic of Industry 4.0 (The Internet of Things /Digital Transformation), ESPERA NOVA meets todays and future market demands. Beside a completely new machine concept, the latest software technologies and features are integrated within the new generation NOVA to optimize production processes, to increase quality control and to enable the machine operator for an easy and intuitive machine handling. Furthermore, it ensures maximum performance and preciseness.
Features:
3D Camera
The unique 3D camera of the new machine generation NOVA recognizes the 3-dimensional shape of each product during the labelling process and adjusts fully automatically during labelling to the perfect printing position for a perfectly labelled product independent of its shape or geometry. This is an absolutely perfect tool for quality control in production plants by avoiding wrong or bad/poor labelled products.
SmartHead:
The new "SmartHead" gives the machine operator and the production team a full overview of the real-time status of the thermal head and its remaining printing quality.
Anyview:
The innovative web-tool "Anyview" offers a perfect solution to control and manage the process of weigh-price labelling from various devices and locations.
Fast change of conveyors and belts:
All belts and conveyors are tool-free and easy to release. The conveyors are fully de-coupled which means there are no free hanging cables that disturb the release or the cleaning process.
21' Swipe Monitor:
The unique 21' full glass swipe-touch monitor is easy to use and offers a wide platform for visualization of all machine functionalities and processes.