Pulsed light packaging sterilization for dairy & food market
Claranor supplies in-line packaging sterilization solutions for the beverage and dairy industries using the pulsed light technology.
Our sterilizers offer chemical free sterilization in full compliance with the shelf life requirement on beverage, dairy & food products: water, refrigerated juices, soft drinks dairy dessert, non-dairy products, smoothies, café latte, ketchup, fruit puree… Benefits of the Claranor Pulsed light sterilization:
Claranor Cup & Lid unit
Suitable for preformed cup, FFS cup, tray, buckets, bails of all formats.
Integration on single or multi-pitch machines, with 1 to 12 lanes. Linear or rotary filling machines
Up to 60 strokes per minute
Instant treatment: on the fly or while stationary
POWERFUL: 3 to 5 log decontamination level on bacteria, including spores & moulds.
COMPACITY: easy to integrate on new or existing line
NON-HEATING & NON-CHEMICAL surface treatment,  it respects the integrity of your packaging.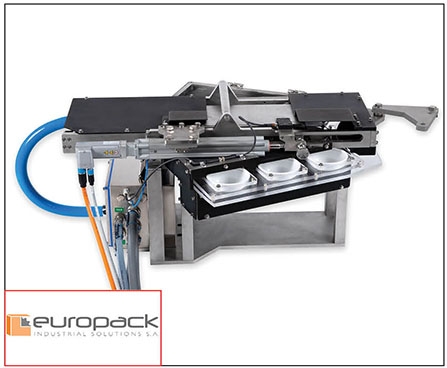 NO RISK OF CHEMICAL RESIDUE, NO NEO-FORMED PRODUCTS
PROFITABILITY: strong savings in energy consumption and running costs compared to other sterilization methods.
OPERATOR FRIENDLY: safe and easy to use
CLEANTECH: using no water or chemicals, is energy efficient. It meets the requirements of manufacturers who want to implement sustainable practices.
Based in Avignon, France, Claranor supplies since 2004 packages decontamination solutions, for the food‐processing industry, using pulsed light technology. Claranor is awarded by the Solar Impulse foundation as "Efficient Solution for the future". Today our sterilization solutions convince major producers, packaging suppliers, and OEM on food & pharma markets. 390 machines running worldwide in 52 countries in 2019.