Significant representatives from the political world at the opening ceremony
The opening ceremony of FOODTECH 2019 took place on Saturday, October 12th at 16:00, with great success and an atmosphere of enthusiasm.
In the specially designed space of the Seminars & Workshops stage at Hall 2, the CEO of FORUM SA, Mr. Nikos Choudalakis, during his address, the mentioned among other things, that: "Our vision is for FOODTECH to be established as the largest and most important exhibition of its kind in the wider region of Southeast Europe and to be a strong guarantor of the bright future of one of the important pillars of the Greek economy, the food and beverage industry."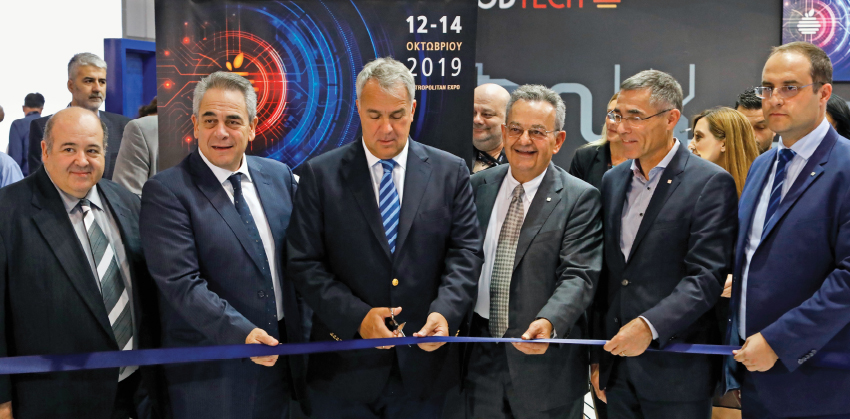 From left to right: Thanasis Gialouris – Vice President of FORUM SA, Konstantinos Michalos – President of the Central Union of Chambers of Greece, Makis Voridis – Minister of Rural Development & Food, Nikos Choudalakis – CEO of FORUM SA, Wolfgang Kranz-Executive Director International of NürnbergMesse GmbH – Thanasis Panagoulias- Commercial Manager of FORUM SA
Mr. Makis Voridis, the Minister of Rural Development and Food, spoke about FOODTECH's contribution to the further development of the agri-food sector, a sector that is undoubtedly one of our country's "heavy industry" and which adopts the latest technological developments in production and processing of product, creates the know-how to produce differentiated products, invests in modern methods of automation, transport and secure storage of goods and manages to penetrate increasingly larger markets. He thanked Mr. Choudalakis for the invitation and he mentioned that he was honored to be present at FOODTECH. He did not fail to mention the strategic cooperation of FORUM SA with the German colossus NürnbergMesse Group, emphasizing its importance for the further development and upgrading of the exhibition industry in Greece. Also, he stated that: "The Greek economy needs trade shows like FOODTECH and I am convinced this trade show will be a reference point for the Greek agri-food sector at both European and international level."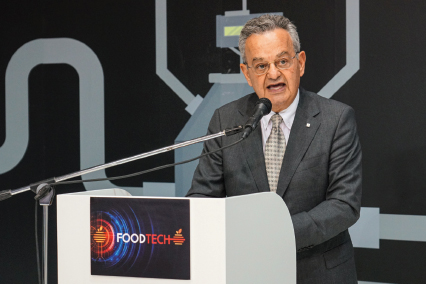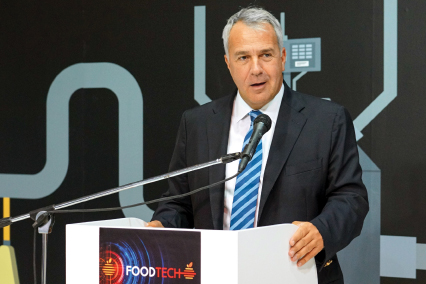 From left to right: CEO of FORUM, Nikos Choudalakis. Minister of Rural Development & Food, Makis Voridis
The opening ceremony was attended by dozens of executives from leading companies in the food and beverage industry as well as institutional representatives. Among them where Mr. Dimitris Mantis, President of Association of the Greek Manufacturers of Packaging & Materials, Mr. Ioannis Smarnakis, President of the Hellenic Association of Food Technology Technologists, George Economou, Director of Association of Hellenic Industries for the Standardization of Olive oil and Association of Hellenic Meat Processing Industries Association as well as Konstantinos Michalos, President of the Central Union of Chambers of Greece and Nikolaos Rodopoulos, President of the Hellenic Logistics Company.